Driving speed and consistency from imaging to plan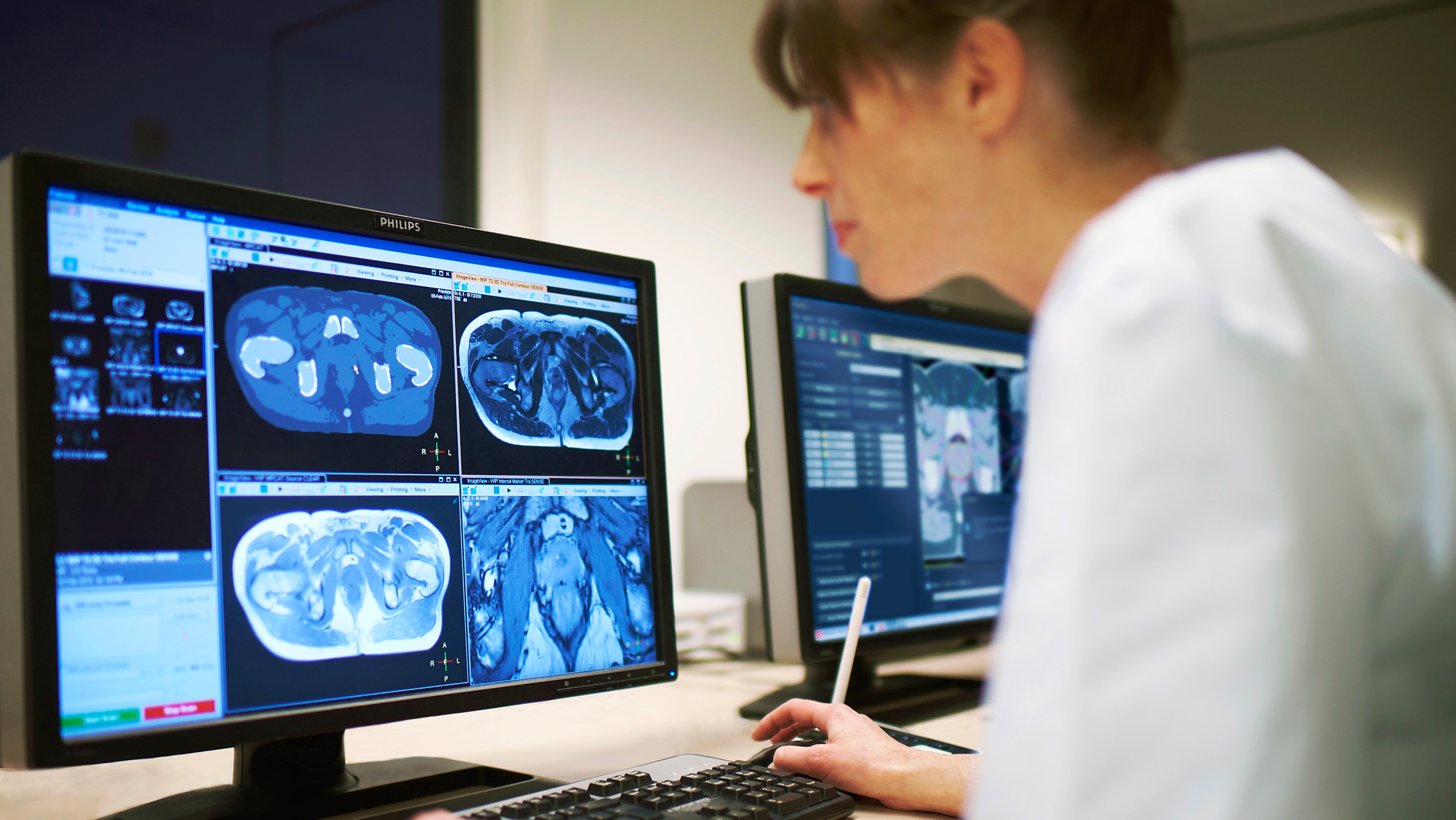 RTdrive MR Prostate combines multiple elements including the Ingenia MR-RT platform, MR-only simulation, Auto-Contouring and Pinnacle³ Auto-Planning, and allows you to generate high-quality treatment plans for prostate with fewer manual steps. Thanks to intelligent automation you can create plans within 25 minutes¹ with minimal user input, saving valuable time and effort.
Growing caseloads, higher patient throughputs, and increasing pressure on resources mean driving efficiency is a challenge in today's healthcare environments. The more time you can save on repetitive routine tasks, the more time you have for patients and to focus on value-added activities.
RTdrive MR Prostate combines a number of individual building blocks, covering the entire workflow from imaging to planning. Together, they can help you streamline and automate prostate planning workflows, while remaining firmly in the driver's seat.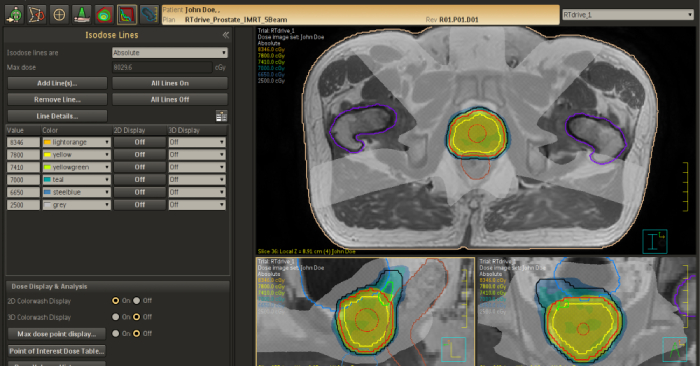 Obtain a high-quality plan within 25 minutes¹
RTdrive streamlines and accelerates workflows, letting you create a treatment plan for your patient within 25 minutes¹ from the start of MR simulation.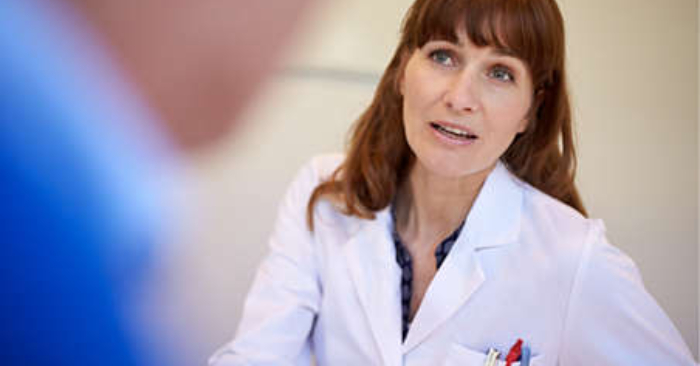 Create contours with little to no user interaction
MR-based Auto-Contouring automatically creates contours of prostate and organs at risk in a few minutes, reducing repetitive tasks and time spent compared to manual methods.
Generate treatment plans in line with your patients' needs
Based on Pinnacle³, RTdrive lets you generate high-quality treatment plans for IMRT and VMAT. This enables you to select the appropriate treatment option tailored to every patient.
Prepared for 1-click⁵ planning
RTdrive is designed to support 1-click⁵ workflows that cover the entire process from MR-only simulation to generation of a treatment plan with Pinnacle³ Auto-Planning. RT drives lets you work in an automated way, while keeping you in the driver's seat.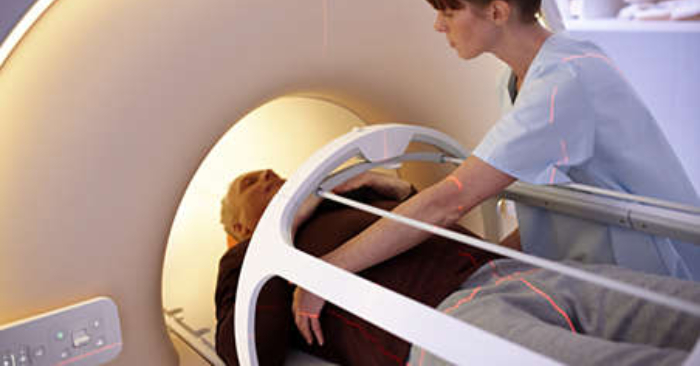 Reduce imaging modalities to one
Since RTdrive requires input from MR images only, there is no need for CT simulation. This reduces organization and coordination of scans, eliminates the effort involved in MR-CT registration, and saves the patient from undergoing multiple procedures.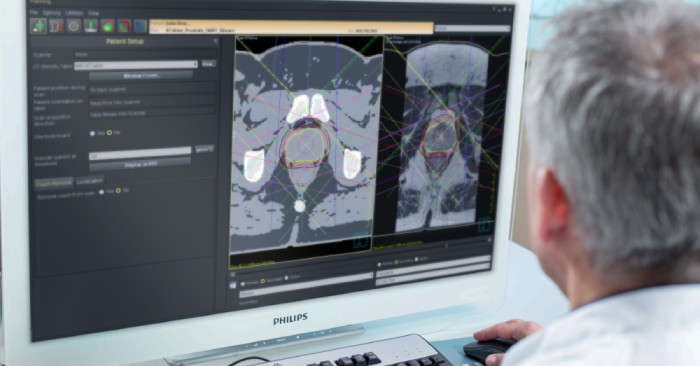 Connect and standardize your processes
Contour2Plan provides a bridge between the MR console and Pinnacle³, by exporting images, contours and scripts to launch Auto-Planning. This replaces repetitive and error-prone manual activities, saving you valuable time and helping you to standardize processes
Choose a configuration that works for you
You can opt to export Auto-Contours to Pinnacle³ Professional or SmartEnterprise for a connected workflow. Moreover, the DICOM conformance of the image datasets and structures facilitates communication to other treatment planning systems. This helps you to remain flexible, while benefitting from the efficiency MR-based Auto-Contouring brings.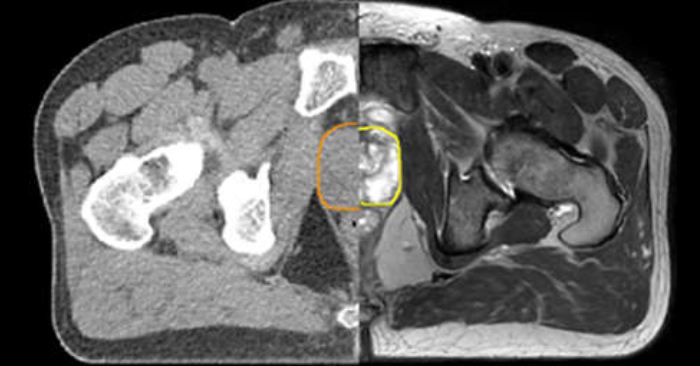 Enhance target contouring with MRI's excellent soft-tissue contrast
MRI offers superior soft-tissue contrast compared to CT for enhanced visualization of targets and OARs. CT-based delination often overestimates the prostate volume as compared to MRI, and multiple studies have shown that MR imaging can reduce the volume of contoured prostate by around 30%⁶.
Reduce the need for manual contouring, while increasing consistency.
Auto-Contouring uses dedicated MR imaging data and model-based adaptive algorithms to provide contours of the prostate and organs at risk. AutoContouring delineation of anatomical prostate, prostate organs at risk (OARs) has been found accurate (average distance less than 1.5mm)² in at least 70% of contours evaluated⁴.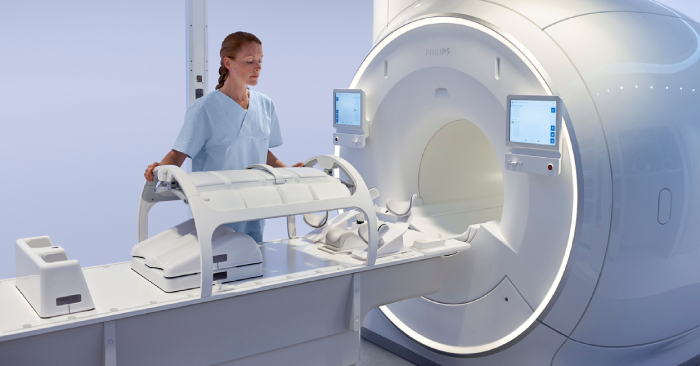 FieldStrength provides regular features and articles on magnetic resonance imaging. It serves as a resource for Philips MRI users to share solutions to their day-to-day challenges in MRI clinical practice.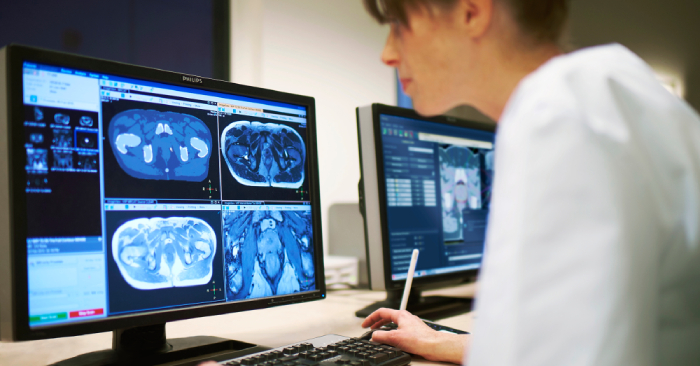 Visit our NetForum online community to share clinical experiences, optimize results, and learn from peers around the globe.