Digital radiography solutions Find similar products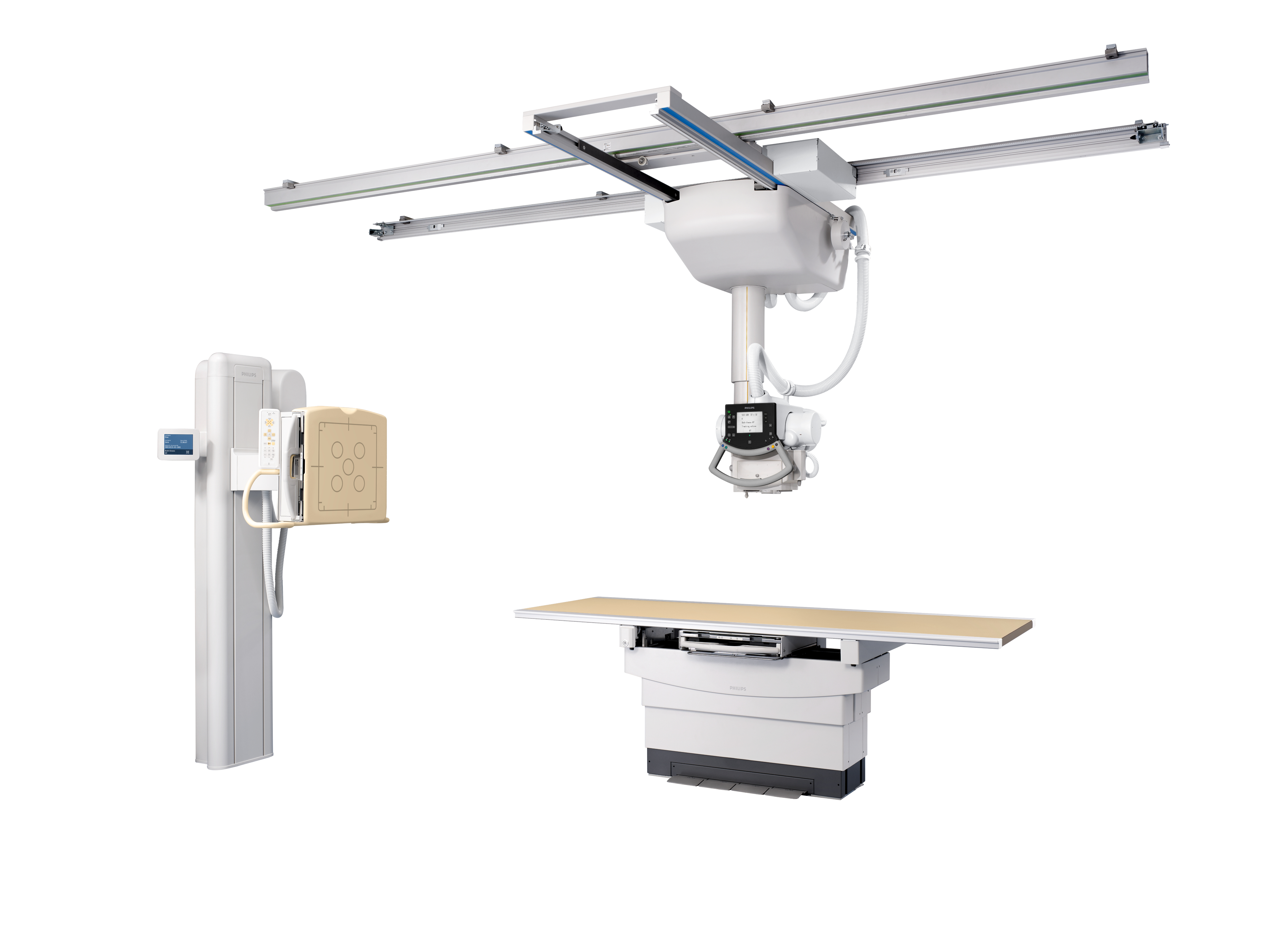 Experience premium digital radiography productivity, with high performance rooms and flexible rooms right through to a cutting edge emergency set-up. Choose the configuration suited to your applications, workflow and budget.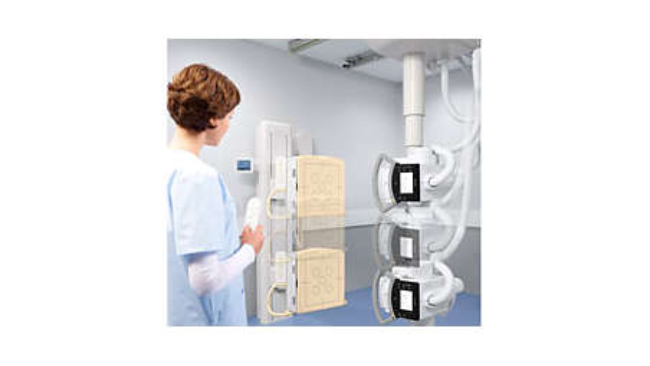 Total DR Room Motorization
With complete room motorization you can automatically position the detector and tube around your patients to free up your DigitalDiagnost DR exam workflow. Immobile patients in particular appreciate the chance to remain in the DR room between projections. Automatic tube tracking and collimation, as well as automatic alignment of tube and detector place patients instead of technology on center stage.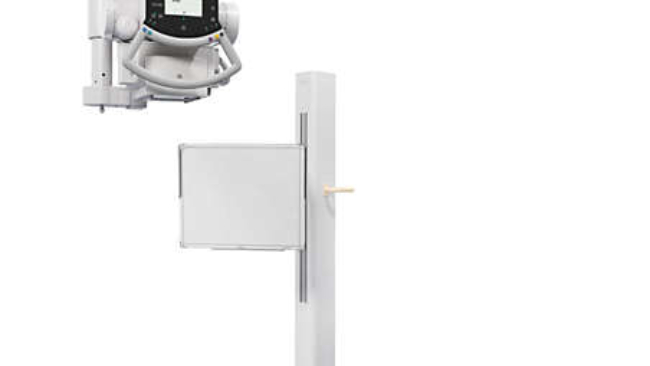 DigitalDiagnost emergency room
If your emergency room is packed with people, machines, and cables, you need a straightforward DR solution that delivers. Incorporate a Philips premium wireless DR system for critical work in your emergency rooms, recovery bays, and trauma centers With just a motorized ceiling suspension and a SkyPlate, there is more room for emergency equipment and more space around the patient.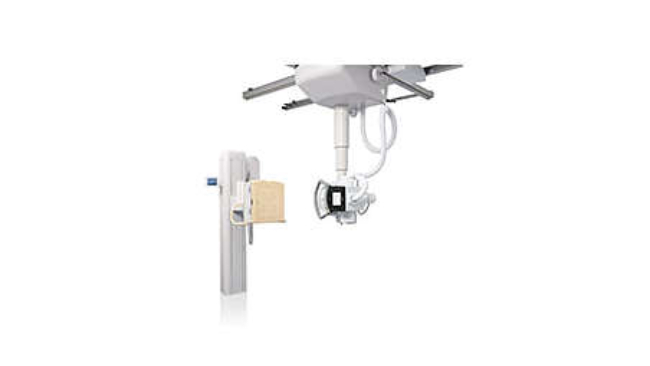 DigitalDiagnost chest room
Typically, you've got to put a lot of patients through your digital radiography chest room. And you may sometimes use it as a back-up solution to your main DR room. With the DigitalDiagnost DR chest room you can rapidly do the full range of chest exams, including in-bed and wheelchair exposures. This room can also be used as a versatile musculoskeletal digital radiography room. You can perform spine, skull, and other extremity exams.
Lightweight wireless portable detector
The large and the smaller sized SkyPlates serve as a workflow enhancing asset in your Philips DR rooms and with the Philips digital mobile unit. The light weight of the DR SkyPlates sets an industry standard for use wherever you need them – stationary or portable.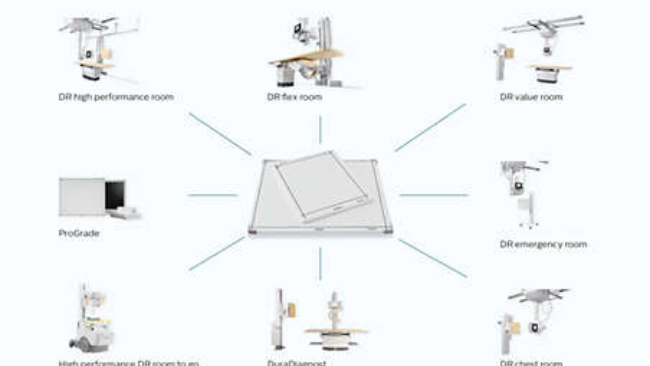 Share it as you like
The DR SkyPlate sharing combinations allow you to efficiently use your budget and customize deployment of your DR detectors. The specialized application range of the small Philips SkyPlate enables it to be applied in different DR rooms and with a mobile DR unit. Use the large Philips SkyPlate for free exams in different areas or insert it in vertical stands or table trays.
Grid-like contrast
When doing DR exams without a grid, Philips SkyFlow produces images with grid-like contrast. It reduces the effect of scattered radiation for non-grid bedside chest exams. SkyFlow is the industry's first scatter correction algorithm technology for portable thorax X-rays – requiring no operator input. It delivers contrast enhancement based on the amount of scatter for the individual patient.
DigitalDiagnost high performance room
In the DigitalDiagnost high performance room, you can comfortably perform exams on more than 250 patients a day. Thanks to the 5-axes motorization of the ceiling suspension and the fixed or moveable vertical stand. The moveable vertical stand excels in efficient upright, cross-lateral and under-the-table exams. With the full motorization you can rapidly switch from table to chest exams without having to reposition the patient.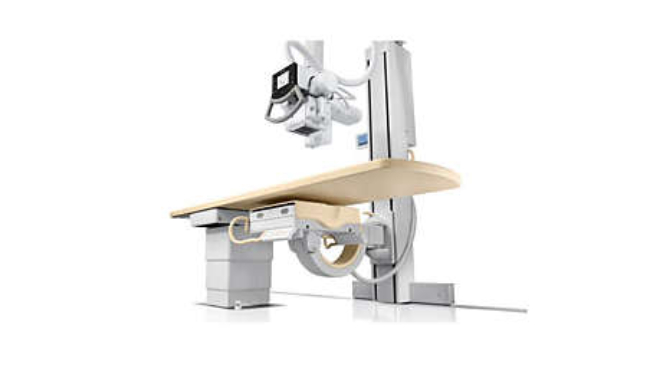 DigitalDiagnost flex room
The single-detector DigitalDiagnost DR flex room with automated ceiling suspension, moveable vertical stand, and single side suspended table with swivel put every part of the patient into the exposure range. You can reduce patient repositioning and gain application freedom with virtually unlimited pre-defined settings of the tube and the detector mounted on the moveable stand's flexible arm.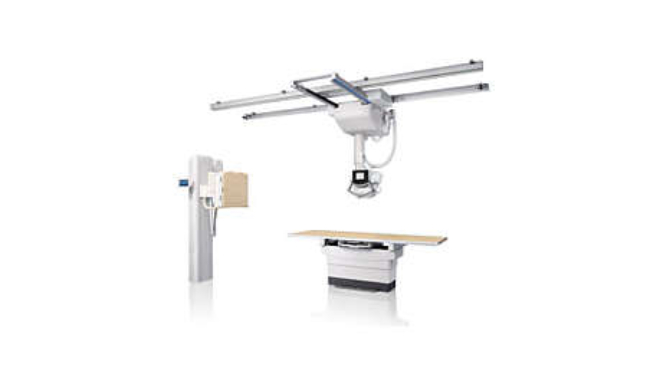 DigitalDiagnost value room
Equipped with SkyPlate trays and SkyPlate detector, the Philips DR value room is a smart entry into the world of premium digital radiography or serves as an additional DR room. Discover premium Philips benefits like renowned UNIQUE image processing and the intuitive Eleva user interface. Move the large SkyPlate between the table and the vertical stand, each with an integrated SkyPlate tray, and use it for free exposures as well.
Eleva – the common platform
Premium Eleva makes workflow continuity and network communication easy. Common platform. Fast to learn and use. Designed to streamline your radiography department. It offers a number of smart tools like enhanced exposure and fluoroscopy settings and immediate image processing.
UNIQUE – superb image processing
UNIQUE (UNified Image QUality Enhancement) image processing. Consistent, superb images for all anatomical areas. UNIQUE enhances every link of the imaging chain, harmonizing contrast and enhancing details.
Tube carrier
Longitudinal and transverse
Motorized ceiling suspended tube carrier with four-part telescopic column
Wide 16.5cm (6.5") LCD information display and control buttons for easy and quick handling
3.44 m (11' 3.4")/with rail extensions 6.14 m (20' 1.7")
Standard version 1.5 m (4' 11")/Long version 3.22 m (10' 6.7")
Tables
Height-adjustable table TH
Height-adjustable patient table with a large range of movements. Convenient handling supports quick patient positioning. Easy patient transfer in recumbent or seated positions.
Floating sandwich-design tabletop with Getalit overlay
Floating tabletop allows for fast and easy patient positioning.
Floating sandwich-design tabletop with carbon fiber overlay
With fixed detector or a SkyPlate in the table tray
Oscillating or fixed grid
(l x w): 240 x 75 cm (7'10.5" x 29.5") and optional 240 x 85 cm (7'10.5" x 33.5")
(l x w): 260 x 75 cm (8' 6.4" x 29.5")
220 x 67 cm (7'2.6" x 26.4")
173 x 67 cm (5'8.1" x 26.4")
Single side suspended table TH-S
Single side-suspended, height-adjustable table. Ideally suited for use with moveable vertical stand VM – the multi-purpose stand with swiveling tube arm.
Height of tabletop above floor
225 kg (496 lbs)
225 kg (496 lbs)
Foot pedal operation allows close proximity to the patient
Has an optional swivel function to enhance patient and system accessibility
Length of X-ray transparent area
50.3 to 90.3 cm above floor (19.8" to 35.6"), motorized adjustment
Height-adjustable trolley TA-M
Easy and safe handling with two foot pedals on each side. All TH-S table accessories can be used with the TA-M trolley.
Vertical stands
Motorized vertical stand with fixed or SkyPlate. Can be adjusted with a left and right hand control unit and/or by wireless remote control.
Horizontal axis: -20° to +90°/vertical axis+45° to -23°, motorized tilting
Optional, tilt angle: –20° to +90°, motorized tilting
Detector is tiltable and moveable, e.g. beneath the single side-suspended table
Oscillating or fixed grid, can store up to two grids within the detector unit
Five automatic exposure control chambers
Five automatic exposure control chambers
Two control panels and remote control
Two control panels and remote control
LCD patient information display (optional)
LCD patient information display (optional)
Height: 2.08 m (6' 9.9")
Height: 2.48 m (8'1.6")
Vertical movement of detector unit
30 cm to 1.80 m (11.8" to 5.1") (central beam)
Horizontal movement range
Motorized 3.48 m (11'4.8")/non-motorized 3.71 m (12'2.1")
Moveable vertical stand VM
Moveable vertical stand with multi-purpose swiveling arm for full application flexibility with just one digital – 43×43 cm (17×17") detector. Can be adjusted with a left and right hand control unit and by wireless remote control.
35 cm to 1.85 m (13.8" to 6' 1") (central beam)
Swiveling range of multi-purpose arm
0° to 90° (right or left operator side)
Can store up to two grids within the detector unit
Detectors
Integrated into the TH table and vertical stands.
up to 3.5 lp/mm, 143 μm pixel size
up to 3.4 lp/mm, 148 μm pixel size
43 cm x 43 cm. Large size provides high projection flexibility for virtually all patient sizes.
35 cm x 43 cm /14″x17″ can carry out difficult projections
Convenient handling with cable-free design
Detector only charges when being placed in battery charger
Guarantees a drop height of 70 cm (28″)
Imaging solutions
Scatter Correction algorithm for thorax x-rays. Automatic image contrast enhancement. For all patient types – even bariatric. Automatic operation, shorter exam times.
Philips Computed Radiography (PCR Eleva)
We offer several CR solutions for different departmental set-ups with single or multi-slot high-resolution readers.
Workflow software offers central operating workspot for the entire X-ray examination. 19″ LCD color touch screen monitor with 1280 x 1024 resolution. Intuitive Eleva user interface allows touch screen use – even with gloves. UNIQUE image processing software for fast and excellent results.
SkyPlate sharing for systems without SkyPlate.
SkyFlow
Dose Reporting in DICOM Structured Report format
DICOM package plus
Automatic image stitching
Clinical QC
Tubes and generators
Wide range of applications. Available configurations: 65 kW, 80 kW. Features include Anatomically Programmed Radiography (APR), tube overload protection, and automatic exposure control.
Dual-focus rotating anode tube: focal spots: 0.6mm/1.2mm. Excellent lifetime with tube overload protection. Compatible with VarioFocus (optional).