Certainty lives in layers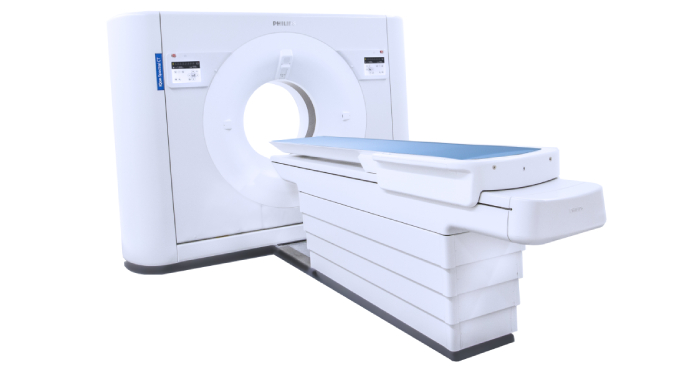 The IQon Spectral CT is the world's first detector-based CT, delivering multiple layers of retrospective data in a single, low-dose scan. Fully integrated with your current workflow, this proprietary approach to CT delivers extraordinary diagnostic quality, empowering you to improve your clinical confidence and make the right diagnosis in the first scan.
The Spectral CT Learning Center
Learn about the power behind spectral imaging
No longer do you have to choose between viewing anatomical structures and identifying material composition. Philips IQon, the world's first spectral detector-based CT, lets you do both with in-depth spectral information on demand and retrospective analysis, at low-dose.
Find out how Philips Spectral CT technology works
Learn more about the key features of the IQon Spectral CT
Scroll through the body to see the difference between traditional and IQon Spectral CT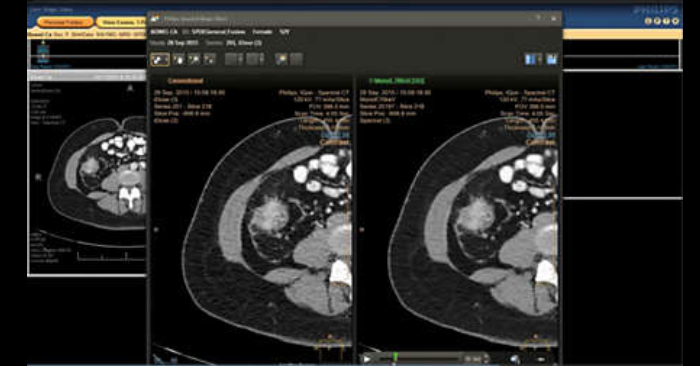 On-demand, simultaneous analysis

Only IQon Spectral CT offers Spectral Magic Glass, enabling on-demand, simultaneous viewing and quick comparison of up to five different spectral results for a region of interest, including Monoenergetic, Iodine Density, Virtual Non-contrast, Iodine no Water, and Z Effective maps.
Drive your clinical performance

Discover exciting new analysis opportunities. Unique NanoPanel Prism detector design delivers conventional anatomical information and simultaneous color quantification and the ability to characterize structures, along with monoenergetic image information – all in one scan. Every scan can be spectral on-demand because the spectral data is always available.
Enable patient-centered imaging and retrospective
analysis
iPatient enables personalized, patient-centered imaging with you in control of important advances in dose management and workflow. Retrospective spectral analysis is made possible through the iPatient platform, so you can experience Spectral CT without the need for any special protocols.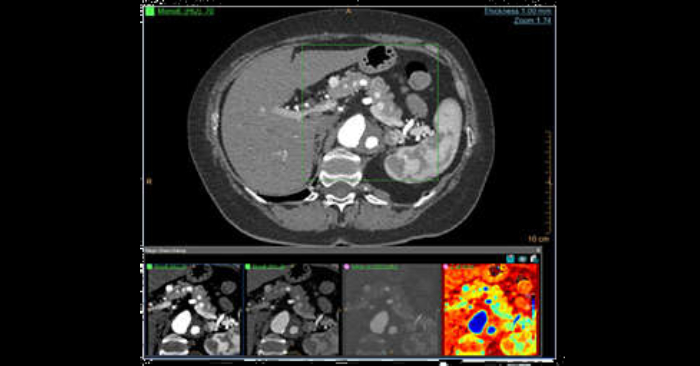 Multiple spectral results,
viewable on PACS
The Spectral Magic Glass on PACS app** conveniently launches directly in the user's PACS viewing setup. Spectral Magic Glass on PACS is only available with the IQon Spectral CT and offers a simple interface that integrates into your organization's current workflow with little or no training.
Sustain image quality and dose
management
Consistency in exam quality and patient care remains a priority. You have full access to all of the dose-management tools you would normally have available in a conventional scanning mode. Additionally, our iterative model reconstruction (IMR) allows for virtually nose-free images through 73% - 90%* noise reduction, helping reveal information previously hidden in noise.
Become a recognized clinical leader

Review prospective and retrospective spectral data analysis with traditional workflow. IQon Spectral CT presents an exciting new approach for collecting and using spectral CT data, which can set your institution apart. With this unique spectral diagnostic ability, you can be recognized as a clinical leader, and at the same time, a low-dose champion.
Features
Conventional reconstruction speed
iDose4: majority of reference protocols under 1 minute IMR: majority of reference protocols under 3
Spectral reconstruction speed*
3-5 minutes for the majority of cases, enabled by HyperSight Elite Spectral Reconstructor
Spectral temporal resolution
Simultaneous in the same time and space
The confidence the patient wants. The diagnostic certainty you need.
Now the first exam is the right exam
IQon Spectral CT delivers valuable clinical insights allowing you to influence clinical workflow, patient care and economic outcomes in your organization.
The answer for your most challenging cases
Expand your clinical capabilities to all patients, even for the most challenging scenarios. The IQon Spectral CT allows for enhanced tissue characterization and visualization, and full use of dose management tools.
The advances are powerful – the workflow is the same
Fully integrated with your current workflow, this proprietary approach to CT delivers excellent diagnostic quality, with spectral results 100% of the time, in a single routine scan.
Testimonials
"I think this is going to change the way we practice radiology."
          Professor Jacob Sosna,
          President of the Israeli Radiology Society
          Chairman, Department of Radiology
          Hadassah Hebrew University Medical Center

All surveyed organizations have seen an average decrease of 20% in repeat CT scans since using the IQon Spectral CT.
Source: TechValidate survey of 19 customers of IQon Spectral CT
Published: Jul. 18, 2017 TVID: 15C-0C2-709

We
do
not
'pre-select'
which
cases
to
send
to
the
IQon.
It
is
located
in
an
ED
setting
and
we
send
as
many
patients
as
possible
to
the
IQon.
Some
days
we
send
135-150
scans
through
the
IQon.
We
routinely
discover
incredible
findings
–
with
diagnostic
confidence
–
based
on
the
spectral
reconstructions.

100%
of
organizations
agreed
with
the
following
statement:
"IQon
Spectral
CT
has
increased
my
confidence
in
diagnosis``.
Source: TechValidate survey of 19 customers of IQon Spectral CT
Published: Jul. 13, 2017 TVID:0EB-5FB-539
We do not 'pre-select' which cases to send to the IQon. It is located in an ED setting and we send as many patients as possible to the IQon. Some days we send 135-150 scans through the IQon. We routinely discover incredible findings – with diagnostic confidence – based on the spectral reconstructions.
Chip Truwit
Chief of Radiology, Hennepin County Medical Center
Published: Jul. 14, 2017 TVID: 209-F12-212
How do you keep your CT up-to-date?
Upgrade your existing equipment with Philips SmartPath so you can continue to offer outstanding image quality and low dose.
Philips
IQon
Spectral
CT
allows
for
more
effective
imaging
with
less
repeat
scanning,
helping
to
improve
clinical
confidence
and
to
help
make
the
right
diagnosis
in
the
first
scan.